7 detailed video lessons: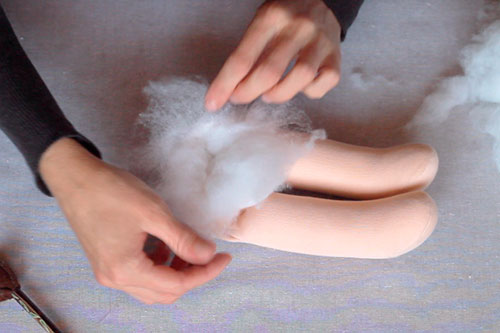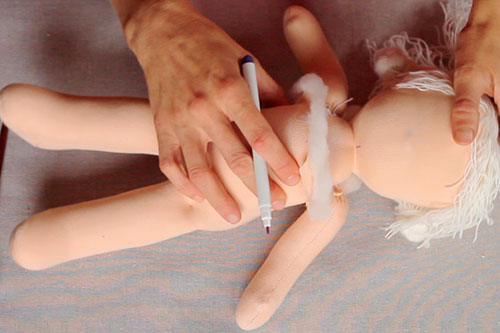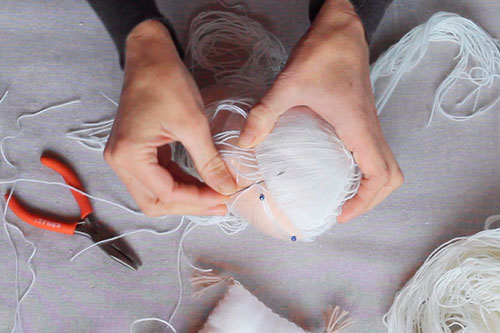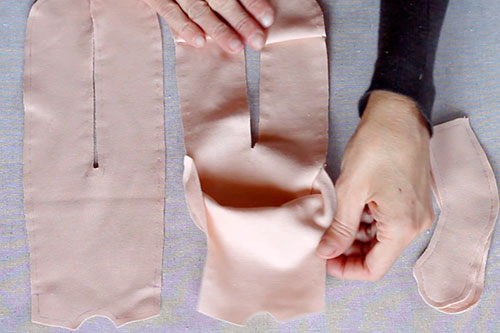 Author's method of fixing arms – it is reliable, safe, movable!

Connecting head and body – getting to master "micro-secret" seam;

We remember that shoulders should be symmetrical and we use pincers for it;
You will see main methods of working with the fiber;

The main secret is how to avoid clots and "cellulitis" while stuffing body;

Learning to form nice smooth fists and heels;

Getting a well stuffed doll's body;
Step by step detailed teaching video course "My dream doll"


You will know the main secret of good proportions to place the eyes and the mouth on the face harmonically

Learning to choose the colour of the eyes and the mouth

Making the marking- the easiest and the most convenient way

Can't make round eyes? Analyzing the main mistakes

What you can rouge cheeks with – it is important to know not to spoil the ready doll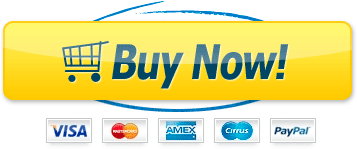 You will get to know about all necessary materials and instruments;

You will realize the difference between Westphalian and Dutch knit fabric and wool of what sheep is the best;

You will grasp to choose the wool for doll's hair by colour and by thickness;

A pleasant surprise: the best Internet shops addresses in Russia and Europe trading materials to make dolls;

Lesson #1. Materials and Instruments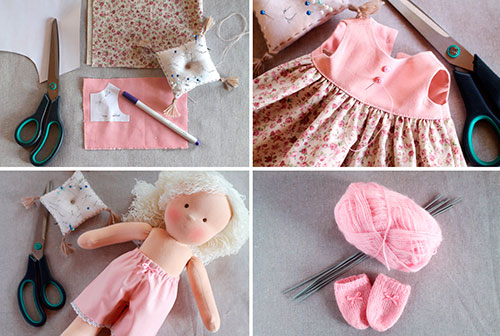 You will know how to do with the stuffing in order to make head smooth and symmetrical;

Disclosing a big secret of how to make fat cheeks, bulbous nose and graceful neck;

How to avoid ugly skin-folds on the neck? Covering head with knit fabric, acting methodically and getting an amazing result;
You will get to know how to avoid grave and small mistakes while working with the knit fabric;

Step by step we will make up, cut out and sew together doll's legs, arms and body;

You will work with the special author's pattern thanks to which your doll will acquire graceful proportions, flexible arms, nice round heels and it will sit straight;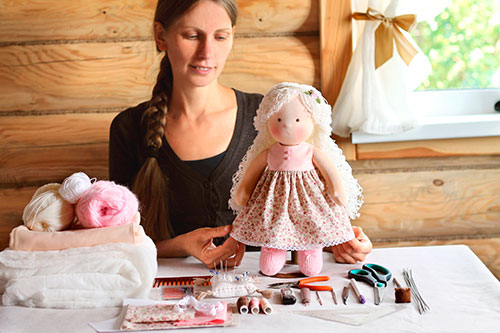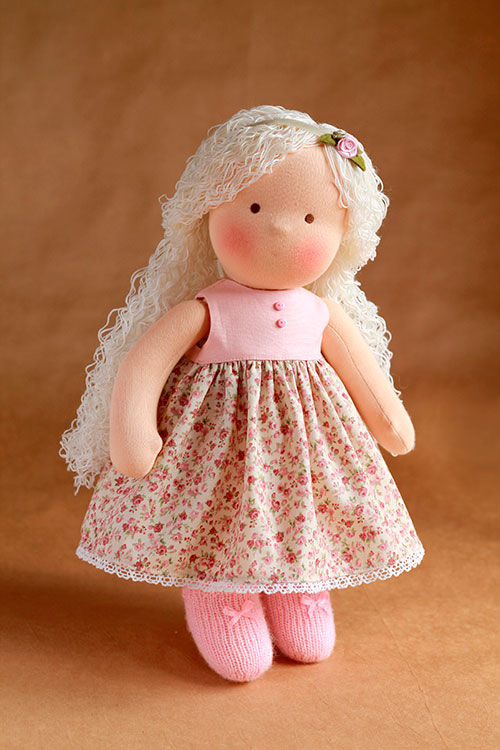 Lesson #2. Forming a doll's head
Lesson #4 Cutting up doll's body
Lesson #5 Working with the stuffing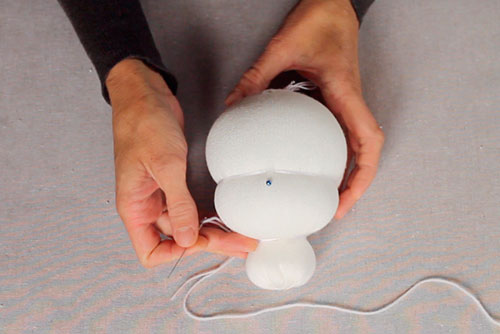 Lesson #7 Embroidering a pretty face
What does "double stitch" mean and why it is so important – analyzing the main technical methods of sewing hair;

Is it better with the forelock or without it? Getting to know some little things upon which result depends;

How to make a complicated hair sewing process into a simple and pleasant doing;

You can create for your doll beautiful long hair that can be combed and any hairdo can be made as if for a girl;

Dolls, Toys & Teddy Bears!
The First International Art Festival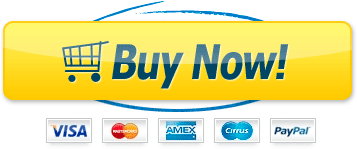 Copyright © doll-fest.com
Support: info@doll-fest.com
1. Buying this course you will get:
- detailed step by step video lessons in MPEG4
- author's patterns in 1:1 scale in PDF
- the list of Internet shops addresses trading materials to make dolls in Russia and in Europe


Natalia Lebedeva, a master in textile and Waldorf dolls
Higher artistic education in Design and Arts
5 years of experience in creating textile dolls
Laureate of the regional exhibitions in the Russian Federation
Laureate of the online Waldorf doll contest "Kind friends"
A certified participant of the Russian Bazhov Folk Art Festival in 2013, 2014, 2015
Organizer and head of the craft workshop "TATA"
Author of the teaching video course "My Dream Doll"
2. Video course «Dress for the lady»:
- Choosing fabric, lace and yarn – a simple way of harmonic colour combination
- Step by step we create a nice dress and pants – easy ways of accuracy and quality
-Knitting socks and creating a beautiful adornment - the last touch of magic
- Getting dressed our doll and admire the results of our work!
Buying this course you will get:
- detailed step by step video lessons in MPEG4
- author's patterns of the dress in 1:1 scale in PDF
Webcast by Natalia Lebedeva, Master in Textile and Waldorf Dolls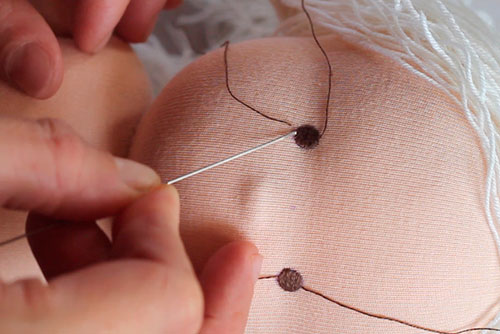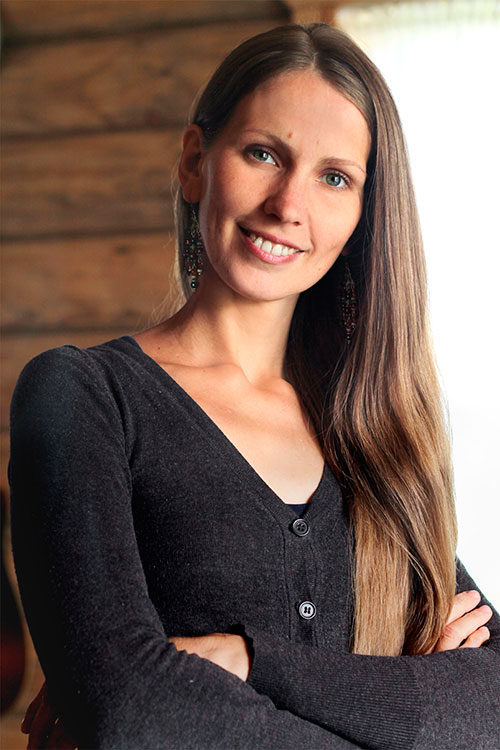 Lesson #6 Assembling the doll