1. Step-by-step video tuturial. 33 video-lessons general length of 10 hours, HD quality. Instant download after your payment. Compatible with Windows & Mac. English subtitles.
A video-tutorial is a unique study material, which was created with love and care about you. Each video-lesson contains a detailed explanation of an each stage of a toys creation. I disclose my secrets I have gathered in years in each of them. Thanks to that course you will not only create your own inimitable toys, but you`ll get a pleasure and a joy from the creative process!



33 video-lessons general length of 10 hours, HD quality, with English subtitles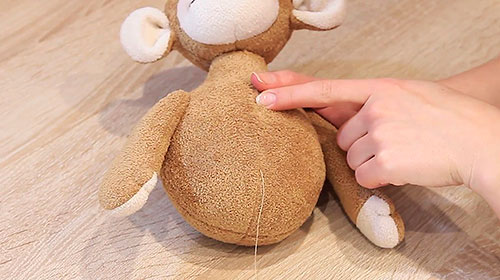 Learn, how easy to sew apertures as much invisible as possible;

Learn to make accurate toy fingers;

You`ll learn some trick to connect feet with low paws and make all seams and joint invisible;

Learn, how to prepare ears, a tail and other small details to further works;
You will study 3 main types of snouts forming for our monkeys;

You will learn to make a correct and careful modeling;

Learn, how to stitch eyes on loops and beads eyes;

Understand, how to fix eyelashes, to make them lay straight and not stick, how to make eyes` whites from a wool for felting;

You`ll learn how to create an expressive and alive face by a dry pastel, as well as particularities of toning on fleece and fur-microfiber;
Use lessons – Easy, Simple and Comfortable!
For you a course is divided in 33 video-lessons. A duration of one lessons depends on a process, from 4 minutes till 50, at an average – it is 20 minutes.

1 video lesson – only one process

Video is made from the comfortable perspective to you

All processes are shot closely, all important moments are additionally approach

Each process, each my step is commented and clarified: why I do this and not otherwise, what you should pay attention to, where you need to be careful and how to avoid a row of mistakes.
A particularity of my tutorials is their design. I`m very exigent about design and I`d like very much, you would got an aesthetic enjoyment , as well as a full volume of knowledge, from the very beginning, from the study of a tutorial.
This video will definitely learn you to create beautiful and stylish toys, which will provoke an admiration, delight and a joy from everyone – your relatives, friends, children and your customers!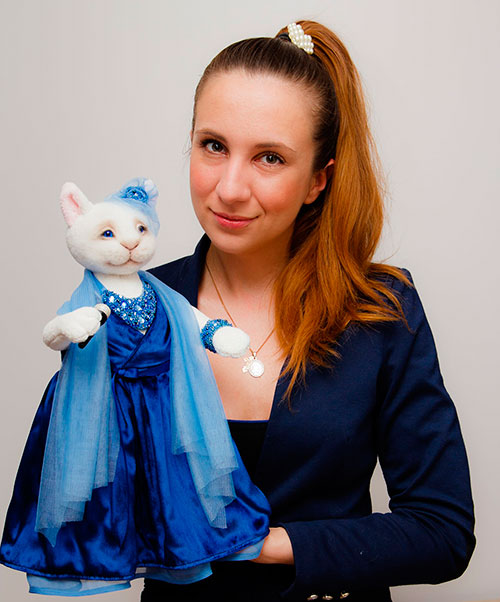 Webcast by Natalia Zatinatskaya, Textile "Beautiful Toys" Creator


Look at the creations of my students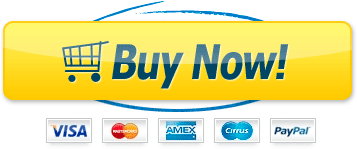 Are You Still Not Agree That You Can Create The Best Monkeys In The World?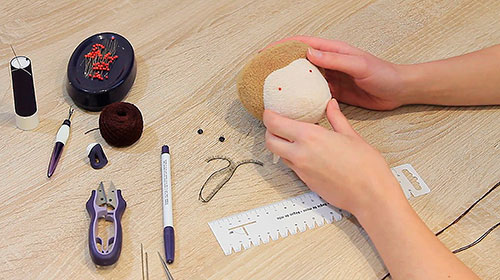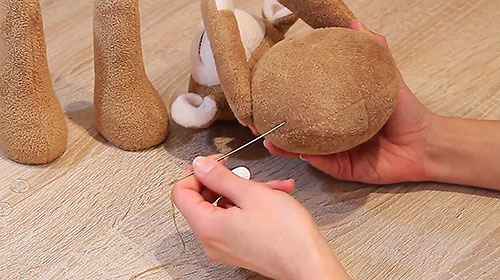 2. A special Addition to the video-tutorial - PDF E-book "Patterns, Materials, Tools", 40 pages

You will learn, what patterns are required to create four monkeys;

Particularities of patterns and h w to read all signs correctly on patterns;

What detail you can change and combine to create your own original work;

What kind of materials and tools you need to prepare to create toys;

How to choose correctly fleece and fur-microfiber for our works, stuff material, heavy content, eyes, splints, disks, gaskets, paints and others;

You will learn some new and interesting facts about tools, which will make your creative processes more comfortable and enjoyable!
Dolls, Toys & Teddy Bears!

You will learn to cut out details correctly for all monkeys;

You will learn how to identify a lengthwise thread on fleece and fur-microfiber, as well as a pile direction and you will learn why it is so important;

You will learn some tricks at working with light or dark fabric;

You`ll see some secret «tricks», how to cut out a detail, to make them look identical and flat;
You`ll learn to stuff all details ideally, without any hills, empties and deviations;

Understand, how to make ideal seams and details with bends using locally available tools when you stuff a detail;

Learn, what kind of stuff materials are the best to use for each detail, and how to make a different shape of a head by means of stuff material;

I`ll tell you about main mistakes and some difficulties, which you`ll come across when you stuff a head;

Learn, how to choose disks correctly for fleece and fur-microfiber detail;

Understand, how to input splints correctly and stuff a detail by them;

The author will tell you how to work with a glass and metallic granulate;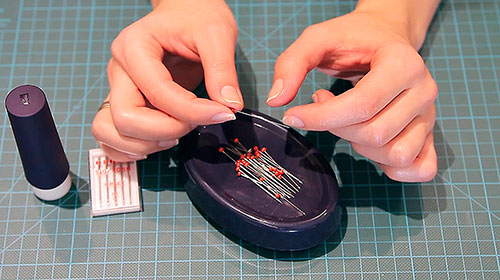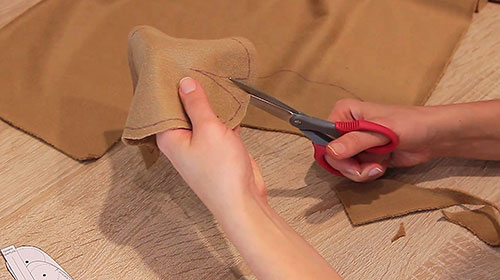 Step-by-step Video Tutorial "Sew Original Soft Toys: Four Monkeys"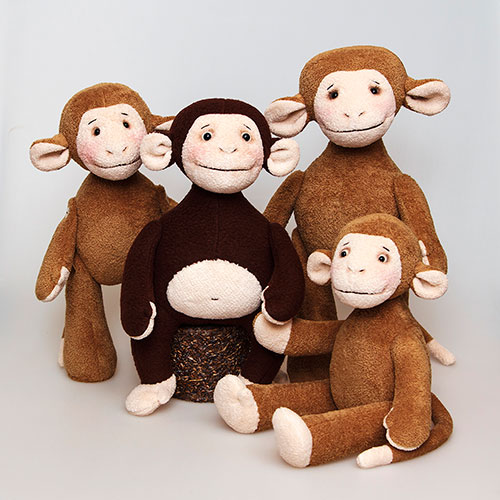 2. Cut out of the details (5 video lessons)
4. Stuff the details (6 video lessons)
1. Study of patterns and prepare materials and tools (4 video-lessons)
5. Sew apertures (3 video lessons)
6. Creating face (3 video lessons)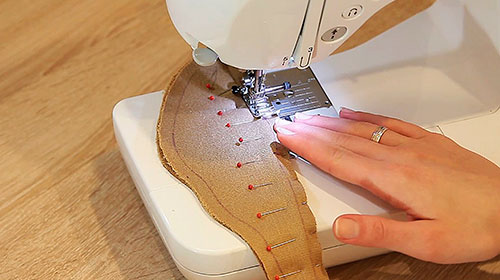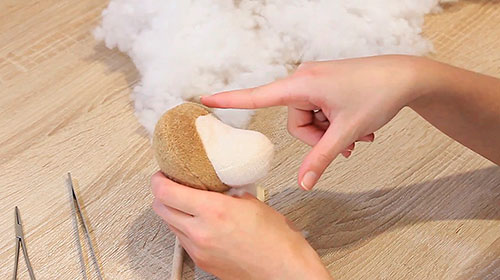 You will learn, how it is easy to sew details, to make all seam lines straight and flat, not to make a fabric slip and stretch;

You will explore a unique technique, how to sew a head: a very difficult detail;

You will understand in what order it is comfortable to sew monkey details and what you should pay attention to;
NATALIA ZATINATSKAYA
Master, designer of signature textile dolls and toys
ACHIEVEMENTS:
More than 700 textile toys and dolls are in private collections in Russia, America, Europe and Asia, one of them even in space!

More than 300 people passed fee-paying courses, and uncountable number of people studied by free materials

The author of more than 120 patterns

The author of more than 50 tutorial materials: workshops, patterns and so on.

The author of 7 books and 5 video-tutorials about textile dolls creation

The participant of international exhibitions: Dolls` Salon and Moscow Fair

9 competitive works were rewarded

A unique co-project "Horses" with Anna Kashnikova, the cinema and theatre actress

Many publications in glossy magazines, on livemaster.ru pages, in social networks, in websites and hundreds of thousands "likes" and adds in "favorites" cathegory


Support: info@doll-fest.com
Copyright © doll-fest.com
7. Joint the details (4 video lessons)

Book includes:
Patterns of four monkeys, adapted to print in its natural size

Lists of material and tools

Photos of toys in process

Scheme of snouts modeling
The First International Art Festival

You will study 3 types of fixing details to a body;

You will learn about all particularities and nuances of details fasting on splints and buttons on fleece and fur-microfiber toys;

You`ll see how to identify all fixing points correctly;

You`ll understand, how to make a moving head and fix it on the neck correctly at the same time;

You`ll learn, how to connect lower paws, to make them stand correctly, a toy will not fall down;

Also you`ll see, how easy and carefully to sew a head, ears, a tail and other little details to a body;
Previous course students' feedback: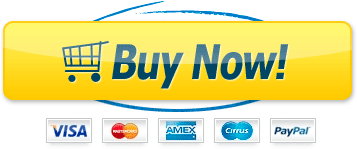 3. Sew the details (8 video lessons)